The 2018 Salary Survey is now available
The latest version of the Robert Walters Global Salary Survey is now available and you can request your free copy now. Don't miss out on the most up to date salary information and employment trends in Japan. The annual book contains recruitment market updates, hiring advice and salary information.
Japan: English / Japanese
Global: English only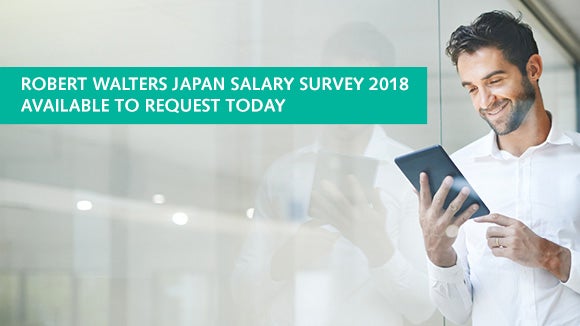 About the Salary Survey
With a 19-year history, Robert Walters' annual Salary Surveys are the most comprehensive review of professional salaries and recruitment trends from around the world.
This year, instead of producing a global book, we have created a series of regional books which collectively cover 28 countries across six continents. This has allowed us to provide deeper insight on regional hiring trends across our key markets including Australia and New Zealand, Brazil, Canada, Europe, Greater China and South East Asia, Japan, Korea, and Middle East and Africa.
All of our Salary Survey books are based on the analysis of permanent, interim and contract placements made across each of our geographies and recruitment disciplines during 2017, and our predictions for 2018.
Hiring trends across Japan
global and cross-border business accelerated even further in Japan throughout 2017 alongside advances in globalisation and technology. As a result, many companies in a wide range of industries were in greater need of professionals who are both familiar with global business and proficient in a second language, putting the level of demand for bilingual specialists at an all-time high. Companies' ability to secure talented bilingual professionals with specialised skills and abundant experience is beginning to affect corporate futures and is a key to growing the Japanese economy.
Traditional business areas have begun adding new specialty skills to hiring conditions such as automotive firms and other manufacturers' employment of mechatronics engineers who possess both electrical and mechanical engineering skills. Demand is also growing for professionals who can leverage issue discovery/solution capabilities and strategic decision making to contribute to organisational and business growth such as human resource business partners (HRBP) in HR, financial planning & analysis (FP&A) personnel in finance, and data analysts in commercial and financial services. While Tokyo's effective job openings-to-applicants ratio is just over 2 to 1, the especially strong demand for both positions requiring these highly specialised skills and positions in new fields is reflected by a ratio of between 4 and 5 to 1. In contrast, the ratio for general administration and accounting positions is less than 1 to 1.
Continuing a trend from the latter half of 2016, many industries in 2017 saw a spread in the application of cutting-edge IT technologies as evidenced by the broad use of the "tech" suffix to describe new fields such as fintech, meditec, HR tech, real estate tech, and agritech. Additionally, the acceleration of IT security measures ahead of the 2020 Tokyo Olympics is particularly notable. Given these trends, Japan has recently been facing a significant shortage of engineers who are capable of deploying AI and IoT technologies and sales specialists who can sell these technologies in Japan and abroad. Entirely new jobs are also being created in the emerging "tech" fields mentioned above.