How diversity in the workplace can strengthen your business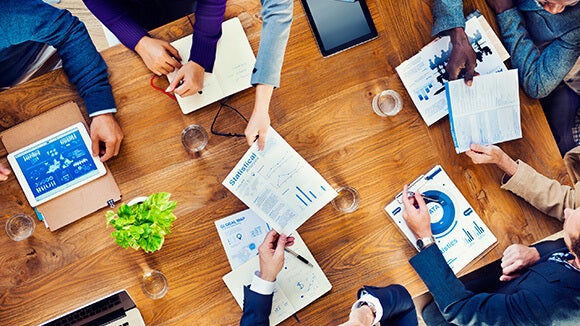 In the past, 'equality' was seen as the priority by many businesses, even if it simply meant ensuring compliance with government legislation on equal opportunities. However, as organisations have come to recognise the strong business case for a diverse workforce, the emphasis has shifted to developing policies which actively encourage candidates from diverse backgrounds to apply and to shape an inclusive company culture.
Developing an effective diversity strategy depends on collaboration between stakeholders throughout the business, and clarifying who has responsibility for driving change is essential.
Diversity in the workplace requires collaboration
Many employers are divided over who should take the lead in developing a diversity strategy. 56% believe it is a task for senior management, while 35% believe that HR should be responsible and 9% feel that it should be addressed by internal marketing teams.
It is important for businesses to understand the distinction between equality, inclusion and diversity in the workplace when they are looking to foster collaboration.
Traditionally, diversity was seen as a concern for HR teams to address, but recent developments have seen senior managers becoming increasingly engaged in creating an inclusive, equal opportunity workplace.
It is by encouraging collaboration between all departments that employers can build the most effective diversity strategy and ensure that this is communicated to their clients and potential new employees.
Recognise the impact of unconscious bias
Identifying potential barriers to inclusion within the culture of a company can also be a significant challenge. Frequently, managers may be making hiring decisions unconsciously based on criteria which are not related to the job role but nevertheless influence their judgement when choosing to hire someone.
Managers are aware of this issue, with 81% recognising the potential unconscious bias has to influence their decisions. However, 42% of employers have no strategy in place to address and reduce unconscious bias.
Similarly, employers may inadvertently discourage professionals from certain backgrounds from applying for roles through the use of exclusive language in job advertisements. Particular terms may suggest to jobseekers that the company is looking not only for someone with the right skills and experience but who fits a pre-conceived image.
Services are available online which can analyse the language used in job adverts, highlighting words or phrases which have the potential to dissuade candidates from diverse backgrounds from applying. Employers can use these insights to refine their approach to writing job adverts and ensure that they are attracting candidates from the broadest possible talent pools. For employers who want to minimise the impact of unconscious bias when attracting candidates, there are a good number of tools like this that can help you.