Professional golfer Shigeki Maruyama speaks with Managing Director Jeremy Sampson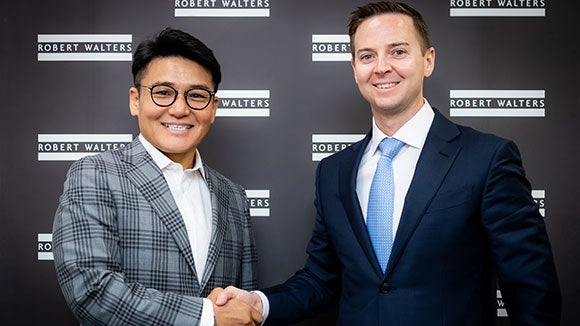 The professional golfer Shigeki Maruyama has won many tournaments on the Japan golf tour, and has made a name for himself as the leading golfer in Japan. In 2000, he went on to fulfil his childhood dreams by participating in tours abroad. He has been quite successful, including finishing at the top of the leaderboard at PGA Tour events for three years in a row. His stance in turning away from fame within Japan in order to compete with stronger competition abroad resembles actions taken by people to advance their careers as they take on new challenges with an unyielding desire to expand their horizons. Jeremy Sampson, Managing Director at Robert Walters Japan, spoke to Maruyama about taking on challenges.

A new undertaking sparked by an unyielding desire to go to America
Sampson has played golf from a young age, and has held a keen interest in Maruyama's dazzling career. He started the conversation by asking Maruyama about what drove him to seek challenges abroad, as well as the preparations he made to achieve this goal.
"I can imagine that it must have been a significant undertaking within your career for you to step up onto the global stage and join the PGA Tour. Tell me what motivated you to take on this challenge, as well as the actions you took in order to make it a reality."
Maruyama responded enthusiastically.
"Tom Watson's victory in the 1981 Masters Tournament left a deep impression on me when I was young. He smiled and walked towards the camera while being cheered by a large gallery. I wanted to walk on that same spot, and it gave me an unyielding desire to go to America."
With this resolve, Maruyama made ongoing efforts from a young age. He steadily developed his career and became the top player in Japan.
Maruyama: "The first time I played in America was in the Junior World Golf Championships when I was 17. I was shocked after arriving in America, because everything was completely different to how things are in Japan. As I continued to participate in other tournaments abroad, I developed a strong desire to win a golf tournament outside of Japan. The golf that I played in Japan served as the preparations to fulfil this wish."
Maruyama has won a total of nine tournaments in Japan, and has made a name for himself as the leading player in the country. He made his way to America in 2000 and began playing on the PGA Tour. He was the first Japanese person to win three tournaments on the tour, among many other achievements, and he has garnered worldwide fame as one of the best golfers in the world.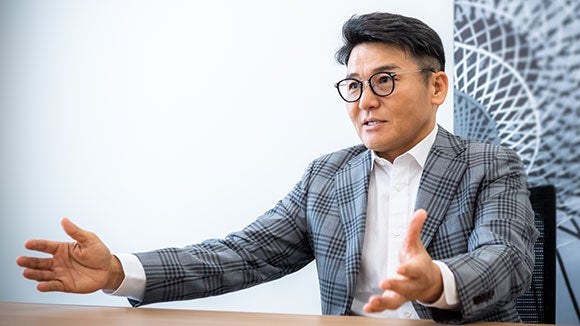 The importance of taking on challenges to make your dreams a reality
Maruyama had secured a successful future for himself within Japan, but instead decided to move abroad where he would have to start climbing the ladder all over again. This endeavour was fuelled by his childhood dream of walking on the green while basking in the glory of a Masters victory.
"For me, the idea of a 'challenge' is deeply connected with my dreams. I joined tours in order to win on the global stage and to fulfil my dreams. In this way, these tours were more than simple tournaments for me. I continued taking on new challenges because I had a lofty goal that I had dreamt to achieve since I was a child. In this sense, I think it is ideal for everyone to keep hold of a dream to achieve something big."
"I feel as if I have been living out a fantasy ever since I was young. I was not quite able to become the best in the world, but I have achieved almost all of my wishes. When talking about fantasies, you can dream about anything, and with as large a scale as you like, be it visiting all the countries in the world or having a million-pound house. When people with dreams speak, their words carry a certain weight. They send out strong messages, and accomplish significant tasks. I think that people who can reach [the top] in any field are able to do so because they have continually strived to achieve their dreams."
Maruyama says that he will always continue to take on new challenges as long as he cherishes his dreams.
"I lost my ambition for a short period following my injury, but I now have a new dream to chase after. It might be smaller in scale than when I joined the regular tours, but I now have a dream to succeed in the senior tour. This gives me a completely renewed drive to work harder. I feel that I am working towards this dream as I stay up late doing sit-ups and squats."
Sampson agrees that it is often important to engage in challenges to fulfil one's dreams within the world of business as well.
"Dreams are not simply about economic success. Some people may want to stay in a comfortable place, and may not necessarily desire to become number one. However, when I ask people in the younger generation, many tell me that they want to be the very best they can be."
"I have tackled many challenges in my life, and I believe that people grow by taking on challenges. We need to depart from our comfort zones in order to achieve this, and my coming to Japan is one example of this. I cherished my own dreams when coming over, and my current position is a result of my efforts that were fuelled by these dreams."
Being a professional involves a mindset that looks beyond compensation
Maruyama demonstrates his abilities as a professional in the world of golf. The world of business similarly demands talented, professional individuals, particularly at foreign-owned companies. Maruyama shared his thoughts about what it means to work as a professional.
"In my fantasy scenario, I wish to stand on a prominent stage and earn a lot of money, but I feel that I also have the responsibility as a professional to create new dreams for others. I have my own dreams, and I can also foster ambition among others to chase their own dreams."
"Speaking of money, golfers are often conscious after making their debut that hundreds of thousands of pounds are riding on this one successful putt. They stop thinking about this a few years into their careers, though. Working as a golfer involves a lifelong relationship with securing funding, but at the same time, I think that professionalism definitely has aspects that are completely separated from money. This idea holds true for people like me who work in aspirational or creative positions, but is it the same for people working in business as well?"
Sampson notes that professionals should undertake missions to act in ways that cannot be expressed in terms of compensation alone.
"I think that the world of business involves important missions that cannot just be expressed in terms of money. At Robert Walters Japan, for example, we provide support so that people working in Japan can more fully achieve their potential. These efforts to provide support serve as our challenge. We cannot achieve fulfilment in ourselves through monetary compensation on its own."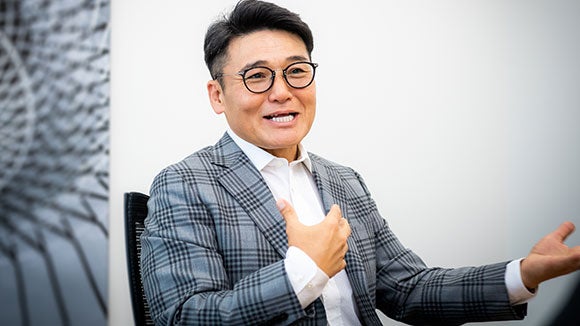 Achieve growth by stepping out of your comfort zone
Maruyama has gained success on a global scale as a result of his daring efforts. Drawing from his own experience, he advises that young golfers should endeavour to participate in top-ranking competitions from an early age.
"[Taking on challenges like these] may not bring about noticeable changes when looking from the outside, but this effort will certainly serve as a major event for you, and there will be a significant change within you. All experience proves worthwhile in the end, and this is why you can always take pride in retelling your experiences to anyone."
"Let me tell you the two happiest events in my life. The first was in Japan, when I was able to play golf with Jumbo Ozaki, a superstar golfer in Japan in the nineties. The second was when I played with the global superstar Tiger Woods. The latter event is one that I particularly treasure, and I am proud of it. I was only able to experience these two events because I decided to take on new challenges; I would not have reached such heights if I had remained in Japan. For this reason, I want the younger generation to take on challenges in a similar way."
Sampson echoed this sentiment: "I came to Japan in my early twenties, and I saw progressive developments in my career within this country. People grow by taking on challenges, and they must step out of their comfort zone to achieve such growth."
Maruyama described the significance of this viewpoint by using a figurative metaphor of getting down from a chair.
"Once you get to sit in a chair in Japan, it is very difficult to get down from it again. It is not an easy feat for someone serving as a section manager in Japan to start all over again in America as a regular employee, for example. I was ready to get down from my chair in Japan, and I was looking to get another chair that I could sit on. I could not have achieved success outside if I had not taken on this challenge."
Anyone with a dream that they want to achieve must undertake new challenges in a harsher environment, without feeling content in their current position.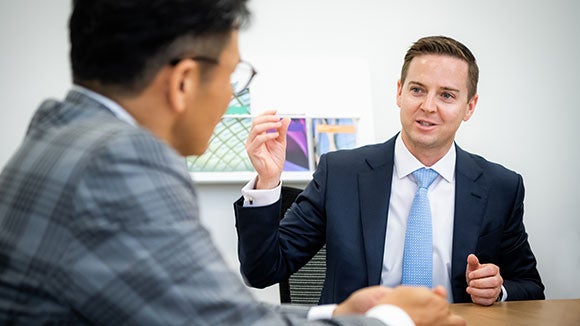 Be a specialist and have initiativeWhat should people do to prepare for achieving worldwide success as global talent?
Looking back on his career, Maruyama says that he carried out all preparations perfectly in terms of golf, though he mentions that the language barrier was the only area that he could not completely overcome. In this light, he stressed the importance of language study: "If I was fluent [in English], I would be able to snack on crisps with Tiger Woods at his house; that is how close I think we would have been."
Sampson recognises the necessity of improving one's linguistic ability, though he notes that "there is something more important than that" for business professionals.
"I do not think that you need to be perfectly bilingual to succeed in business. However, I do feel that communication skills are vital, and it is great to be able to convey your message to people by stringing all the right words together."
"Being a specialist is just as important as speaking English, if not more so. Japanese companies have a strong tendency to look for generalists, but foreign-owned companies want specialists. It is also important to take the initiative and vital to be able to proactively set goals and achieve them. In that sense, you are a specialist who acts with initiative, aren't you, Mr. Maruyama?"
The world is big. You are sure to see a different side of the world
Maruyama took on challenges to fulfil ambitious dreams and achieved significant success in top-ranking competitions, working with initiative as a specialist. In this way, he is a prime example of global talent. If you have a dream or a goal that you wish to take on and achieve, you need to be ready to get down now from your current "chair," just like Maruyama. There are things that you can do in your current location to lead your endeavours to success, such as polishing your specialist abilities. Businesspeople have much to learn from the path that Maruyama has trodden.
At the end of their talk, Maruyama and Sampson each gave a message to people seeking to compete on the global stage.
Maruyama: "It is your own life to lead, so I will not say that you must absolutely do whatever it takes to go out there. What I will say is that the world is big. If there is something that you truly want to see, then I hope you prepare sufficiently before you head off. You are sure to see a different side of the world."
Sampson: "What I can say for certain is that you should lead your life without any regrets. Robert Walters Japan provides support in many ways for people who strive to succeed as global talent. We will help survey the course for your career, just like a golf caddy."