"AI will take over my job" - Employees' honest views, and hints to recruiting AI specialists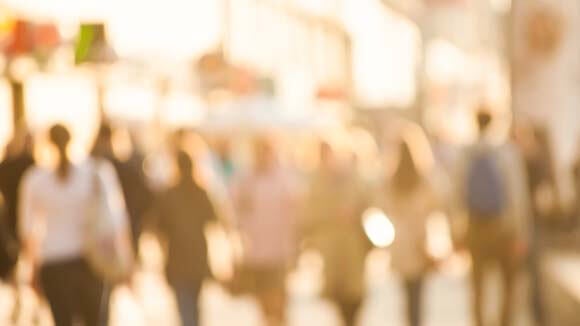 Associate Professor Michael A. Osborne of the University of Oxford has predicted that 47% of the total jobs in the United States will face the risk of being automated by the year 2030. Many other preeminent, global executives have made similar statements, leading to these predictions being referred to as the "AI Menace."

60% of company employees: My job will "not be taken over by AI"
Robert Walters conducted a survey to ascertain how employees working on the front lines in Japan viewed the "AI Menace." When 293 global professionals working at the Japanese subsidiaries of international firms, and at Japanese firms developing global businesses, were asked, "Do you think there will be a time when your job is taken over by AI?" 61% answered, "No."
When examining employees' perception on the risk of AI taking over their jobs on an annual salary basis, 73% of employees earning annual salaries between 10 to 15 million JPY, so called elite professionals, answered "No," while approximately half (54%) of employees earning annual salaries of 4.5 million JPY or less, engaged in clerical work and other general duties, answered "Yes."
These results suggest that elite professionals, who possess highly specialized skills and abundant business experience, have a deep understanding of the fields in which experienced professionals excel/do not excel and how those fields compare to the areas of work in which artificial intelligence (AI) excels/does not excel, and this understanding has prevented vague unease towards AI from spreading.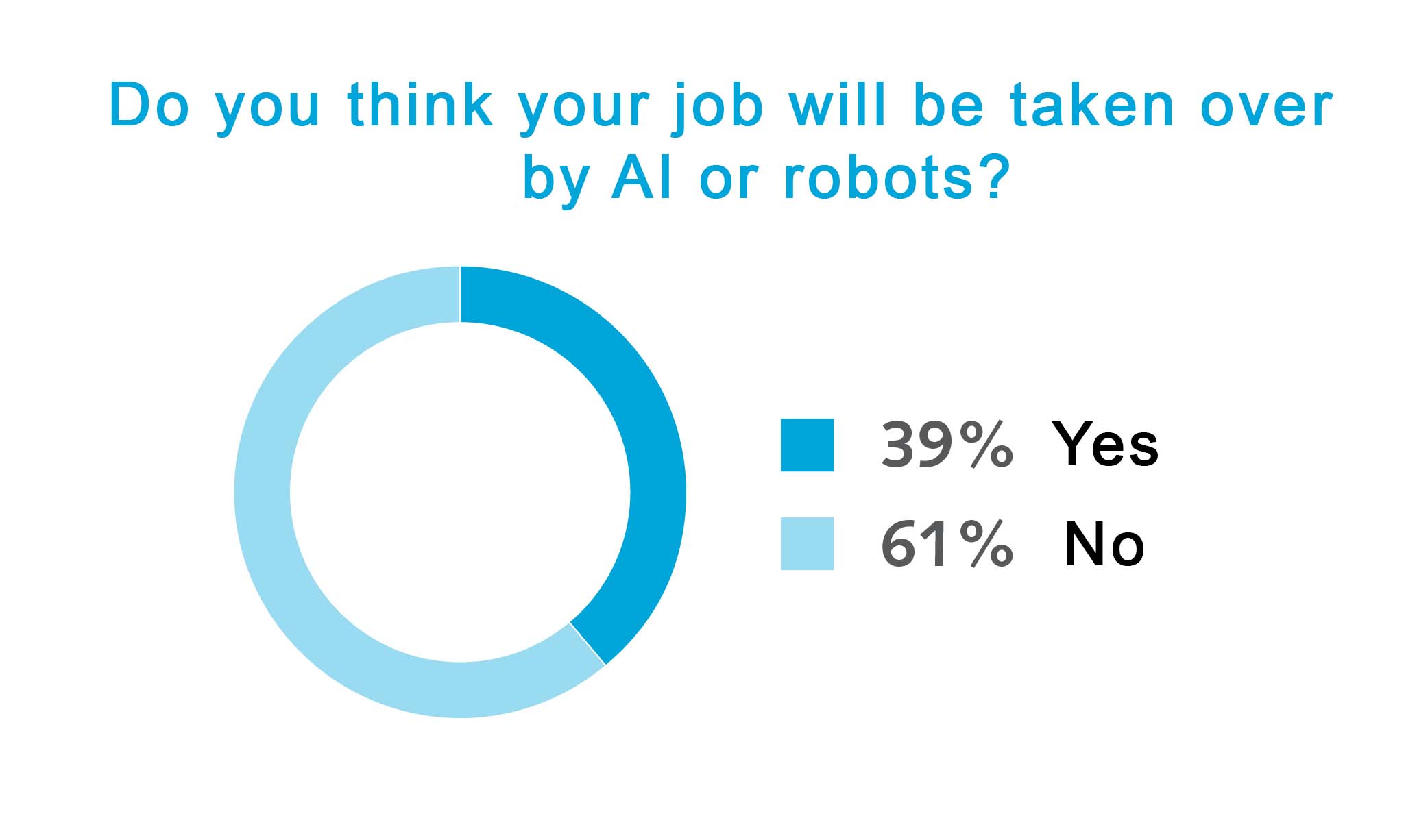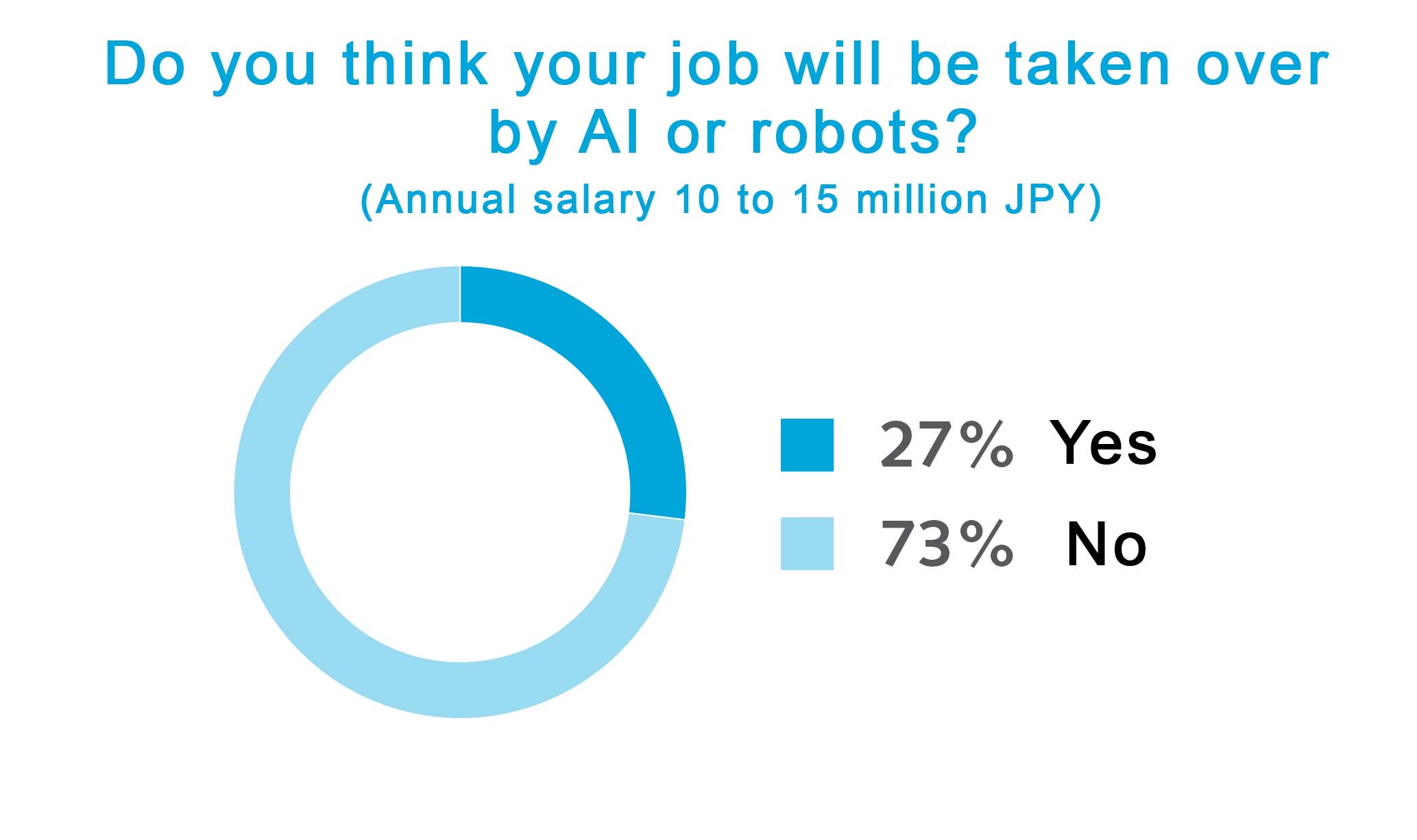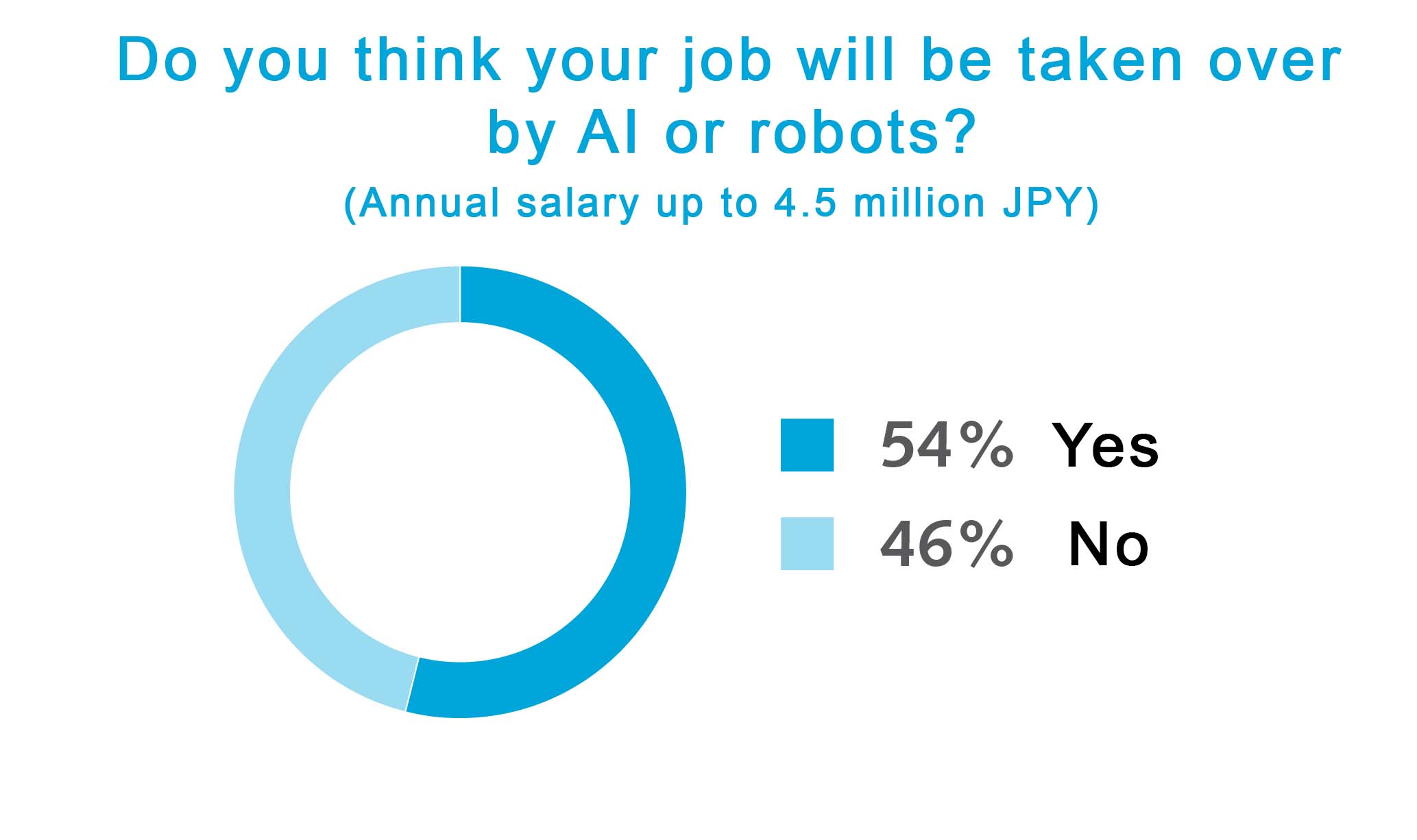 Employees' sense of danger and desire to learn
98% answered "I want to survive by improving my skills"
When respondents who answered "I think there will be a time when my job is taken over by AI" (39% of the total) were asked what measures they would take in response, 2% answered "I won't do anything," 10% answered "I will learn a hard skill again," 27% answered "I will improve my lacking qualities and soft skills." 55%, however, answered "I will work at both (hard skills and soft skills)," making this choice the clear leading response.
When asked what qualities or soft skills they would like to improve, the leading response was "Issue Resolution" (33.7%), the second leading response was "Creativity" (28.9%), and the third leading response was "Communication Skills" (26.5%).
Among the hard skills employees wanted to learn again, "Management" was the first choice (32.1%), "Data Analysis" was the second choice (26.9%), and "Marketing" was the third choice (17.9%).
In these responses, we can see that even employees who feel their job may be taken over by AI (39%), are demonstrating a proactive stance of seeking out the areas in which AI does not excel, and where humans can provide high added value, and desiring to learn or improve the associated skills.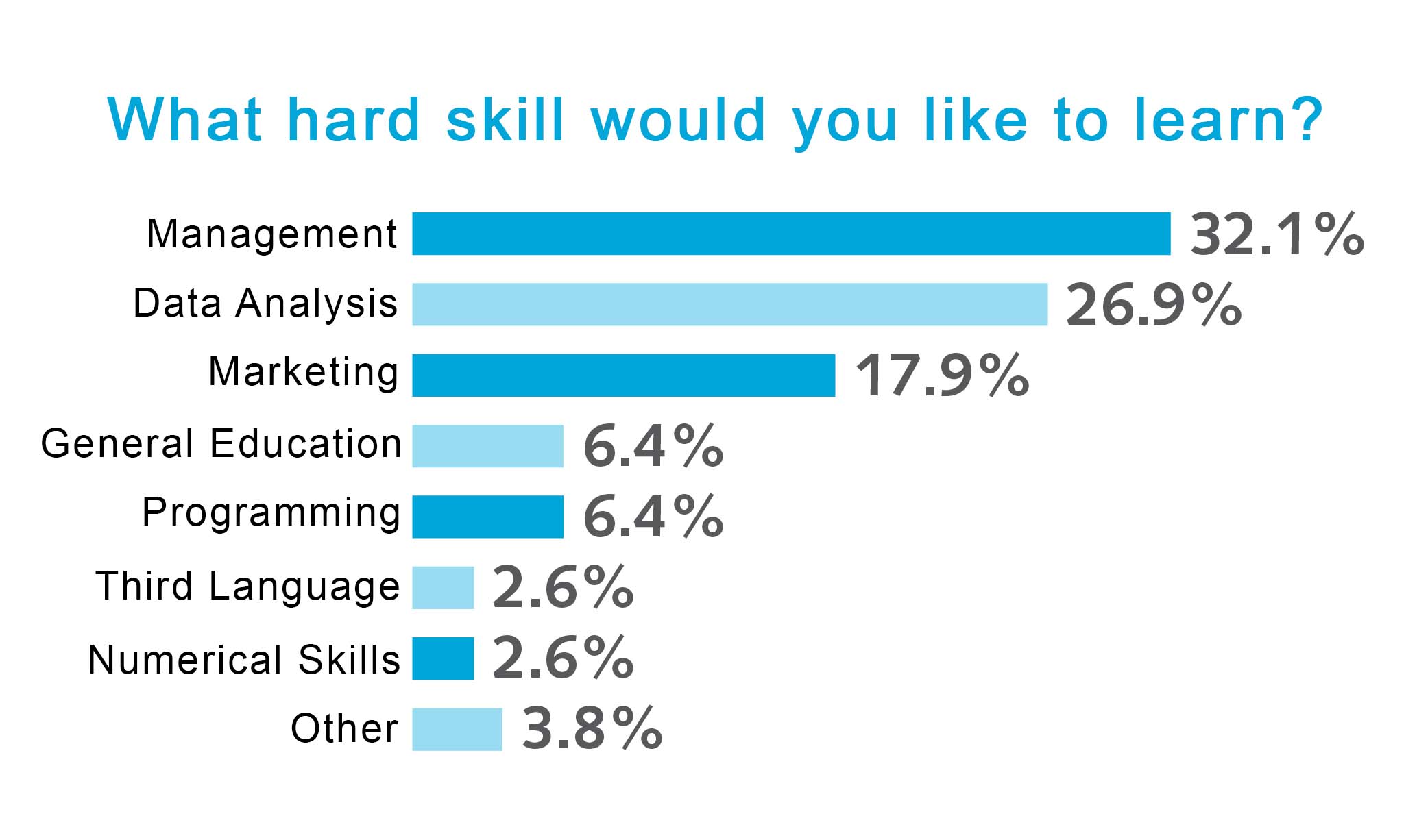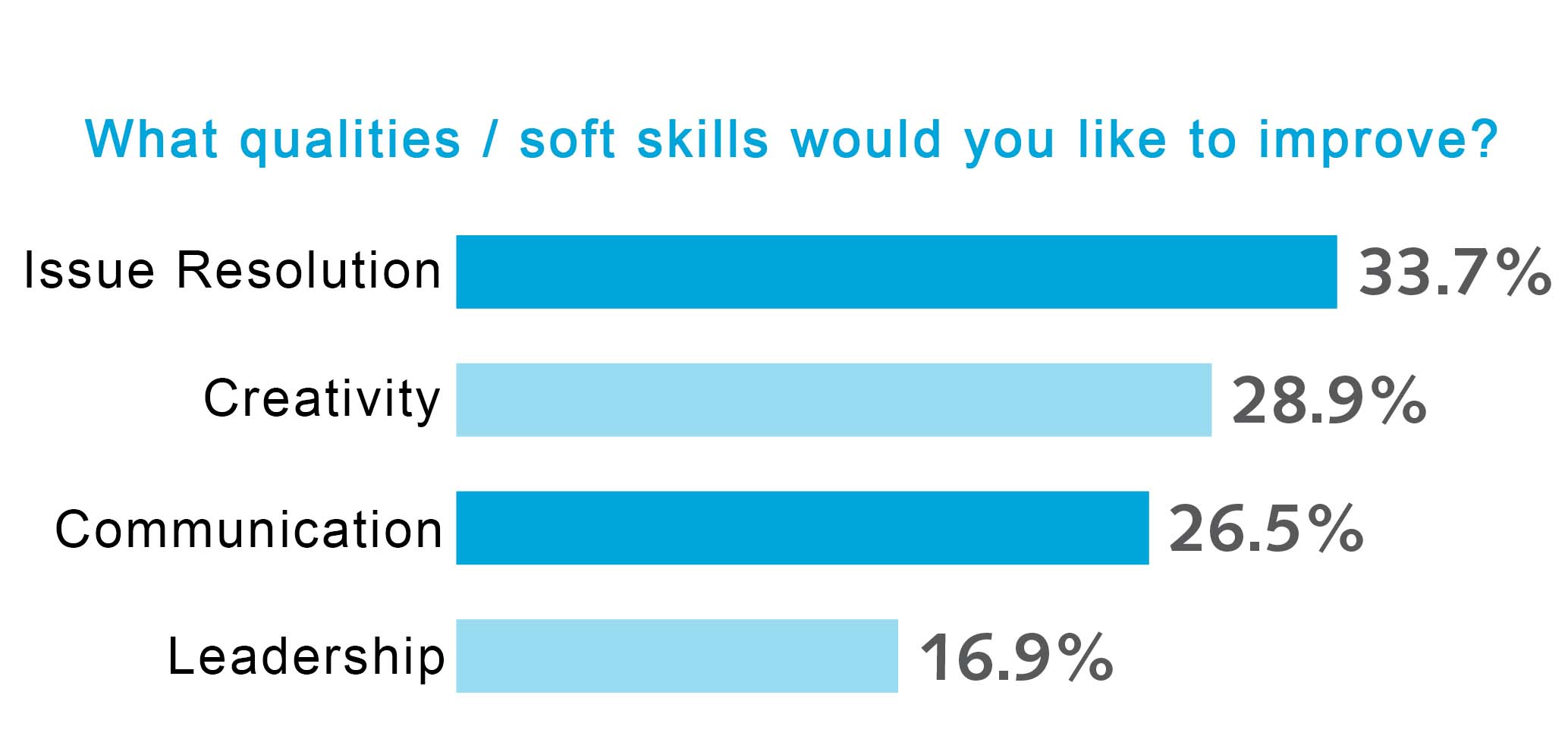 The steep rise in demand for AI specialists in the recruitment market

In contrast to the above, the demand for specialists versed in AI is rising steeply. In the "2018 Salary Survey" conducted by the Robert Walters San Francisco office, which supports a vast number of IT professionals and employers in their job change and employment needs, centered around the Silicon Valley, the AI and Machine Learning fields demonstrated the most vigorous recruiting in 2017, which is attributed to the concentration of venture capital investment in the field, generating massive demand for human resources. Demand for engineers with expertise in robotic engineering was the highest, and the demand for data scientists, a field in which few specialists possess the necessary set of skills, was also far greater than the supply.
This rapid rise in the demand for AI specialists is not limited to Silicon Valley. Large portions of the national budget have been devoted to the research and development of AI in countries in Asia, such as China and Singapore, and also Europe, such as Britain and France, and many companies are working to develop and introduce practical applications of the technology.
The same situation can be seen in Japan. Japan is moving from the age where IT supports business growth, to the age in which IT is the driver of business growth. While many firms in a variety of industries, in addition to those in the IT service industry, are racing to secure AI and data science specialists, there is a dramatic lack of professionals who possess the necessary skills and experience. This phenomenon is driving fierce competition in recruitment.

What is the secret to recruiting AI specialists who are considering a job change?
As the speed of business continues to increase due to technological innovation and globalization, Robert Walters is increasingly supporting the recruitment of veteran professionals in the so called "middle layer" in their 40s, who possess the advantage of immediate capability, in addition to young professionals hired based on potential. A complex skill set and high specialization is required of AI specialists, though, leading many companies to expand their outlook to value the potential of a candidate irrespective of professional experience.
This is caused by the extreme lack of specialists in the AI (artificial intelligence) field with extensive business experience. Leaving the door open only to candidates who possess business experience can leave companies facing unfilled positions for long periods of time. In the field of technology, which is advancing on a daily basis, it is critical to focus on candidates who have the ability to sense change and the desire to learn and update their skills, and also possess skills and experience that can be leveraged on the job, even if they do not yet have professional experience.
To hire AI specialists, who are scarce worldwide, while it is essential to offer remuneration and a salary that is competitive on a global level, it is even more important for the work itself to be interesting. Candidates look closely as to whether the business has a clear vision on how it wishes to leverage AI technology. It is also important to engineers, considered elite professionals, that the company they work at invests in the latest technologies, and allows them to work in an environment that utilizes the latest technologies. It is also essential to provide an environment that allows employees to continuously improve their skills to stay current with the latest technologies. Companies that understand this need and offer training are likely to see an advantage in recruitment.
In the IT and online industries, an increasing number of firms are being seen that promote advanced corporate cultures, as well as those not overly concerned with the number of times a candidate has changed jobs. In Japan, with its roots in a culture of lifetime employment over many years, there are many companies that view a high number of job changes in a negative light, but for engineers, it is not assured they can gain all the skills they need at a single company, making it necessary for them to upgrade their experience and skills by changing jobs. For companies outside the IT and online industries seeking AI and data science specialists, taking a more flexible approach to corporate culture and candidate requirements, may be a shortcut to securing a candidate.
Read the latest hiring advice articles here.
Are your salaries competitive? Find out by checking our Salary Survey.