Employee Insights Survey 2018
Ever since the topic of "working styles" was first raised, an increasing number of companies have been looking for ways to improve work-life balance ahead of the government's efforts to reform working styles. Many companies have attempted to do this by restricting the amount of overtime their employees could work, but for workers who depended on their overtime allowance as an important part of their income, these restrictions reduced their income and adversely affected their livelihoods.
There are also growing concerns regarding the burdens placed on managerial staff. Managers face a number of difficulties in managing their employees' performance and maintaining a high level of productivity amid a growing range of working styles such as telecommuting, working from remote offices, and more flexible working hours. The question is now being raised as to how managers can address these burdens and what kinds of solutions they can seek from their workplaces.
There is currently an unprecedented shortage of human resources in Japan, and an increasing number of professionals view the seller's market as a good career opportunity and express a willingness to change jobs. Industrial structure and the general business environment are also rapidly changing in response to the acceleration of globalisation and technological innovation. This report will shed some light on the views of bilingual talent in Japan through a survey of 1,958 bilingual professionals at both foreign-affiliated companies and globally expanding Japanese companies, and the insights provided here can hopefully be used to recruit and retain these professionals.
CONTENTS:
Latest trends in overtime and income
Shift in managers' stress in reaction to work-style improvement schemes
Timing and decisive factors for moving to another company
Salary situation surrounding bilingual specialists in Japan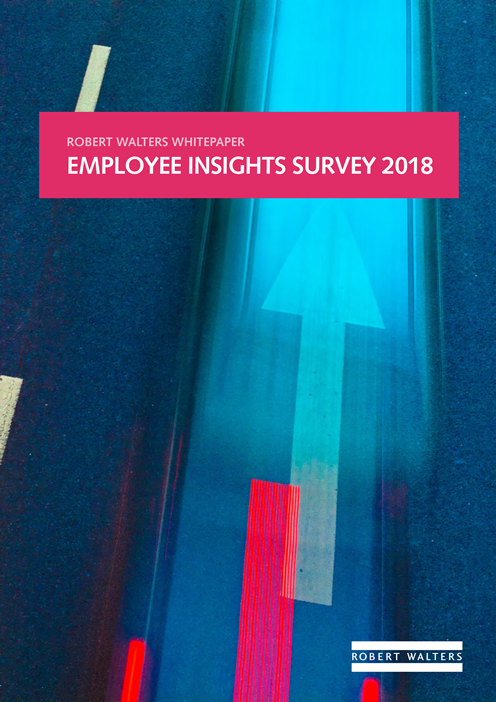 Employee Insights Survey 2017
The staffing shortages in Japan's labour market today are more pronounced than those seen during the "bubble" period. As a result, it is safe to say that regardless of their industry or scale, all companies are currently trying to uncover the key to retaining talented employees and overcoming competition when recruiting new personnel. The staffing shortages also mean that the labour market is now a sellers' market with jobseekers now having the advantage. With jobseekers now receiving offers from multiple companies, what conditions are required for them to settle on a particular company and accept an offer? This survey looks at uncovering these key points based on the responses of approximately 1,400 bilingual specialists1 working at the forefront of foreign-owned and global Japanese firms. ("Bilingual specialists" refers to people with specialised skills, knowledge, and experience, who use both Japanese and English in their work.)
Employee Insights Survey 2016
This survey was conducted on 1,459 bilingual professionals in Japan, and summarizes their attitudes toward their workplaces and changes of employment. The factors that respondents valued in their current office environments and when changing employment were compared based on factors such as age, gender, and industry. The effective job-opening-to-applicant ratio in Japan is currently on the rise, and the labor shortage problem is becoming increasingly serious. As such, it has become an urgent task for companies to put in place measures for securing talented professionals. While there is a need to offer competitive salaries based on market conditions and competitor activity, understanding the evaluation criteria used by professionals working in Japan to decide on the companies to switch to and how they appraise the companies they are currently employed in or their dissatisfactions with these companies, is important when attempting to successfully hire highly skilled specialists and improve retention rates. This survey reveals varying values and attitudes according to differences in demographics, and provides key points that human resource and hiring managers should take into consideration in order to secure talented professionals.
Employee Insights Survey 2015
Securing target candidates and retaining employees are growing challenges for companies in an increasingly tight labour market. With more and more candidates receiving multiple job offers, competition among companies appears to be intensifying. Employers are advised to clearly understand the needs of professionals and create recruitment strategies as required if they are to keep one step ahead of competitors. This whitepaper looks at the scale of talent shortages and their impact on businesses. It also discusses similarities and differences we found between Japan and South Korea through our surveys. Together with insights from candidates, this report sets out several recommendations to consider, which should help put your company in a better position within a competitive marketplace.
About the Employee Insights Survey
The Employee Insights Survey is conducted among skilled professionals to visualize ongoing trends in workplace and job changes, sorted by age brackets and industries.
Due to the increasing talent shortage in Japan, employers desperately need to find solutions to acquire skilled human resources.
While it is still imperative to offer a competitive salary within the market to acquire and retain talent, the focus is shifting towards understanding what employees in Japan's job market value in their future workplace and what they are dissatisfied with at their current jobs.
This survey provides insights on what HR professionals and recruiters should consider in developing their talent acquisition and retention strategies.